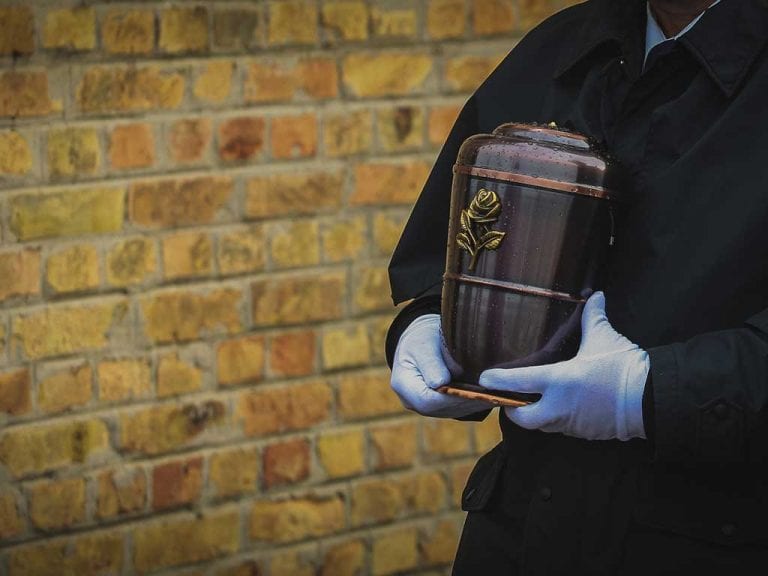 Cremation Diamonds, the ultimate urn
What to do with the ashes after cremation
After a loved one has been lost and then cremated, many people ask themselves, what do I do with the ashes? Traditionally, the ashes of a person would be kept in an urn and either be set into the earth or where allowed kept at home.
Some of our clients have been saving the ashes of a loved one for decades, as long as there is a minimum of 500g of ashes, we can grow a  diamond regardless of how old the ashes are. – NOTE – If a company that turns ashes into diamonds needs less than 500g of ashes, they are more than likely adding industrial carbon (impurities) to the process in order to create the size of diamond needed, Algordanza guarantees that your diamond is made of 100% of your loved ones ashes.
If you do not have 500g of cremated ashes for a cremation diamond, then perhaps you may need a memorial diamond.
Making a diamond from ashes costs no more than a regular burial with the associated grave maintenance and starts at £3,000 for a 0.3 ct diamond from ashes. Ask us about financing your cremation diamond up to £7,500.
Since a diamond actually grows over time, the diamond's end size could be slightly smaller or slightly larger than requested. If the diamond is smaller, the price will be reduced, however if the diamond is larger, no extra cost will incur.
As part of our service, Algordanza UK will travel anywhere in the UK to personally secure your loved ones ashes from you or your funeral director.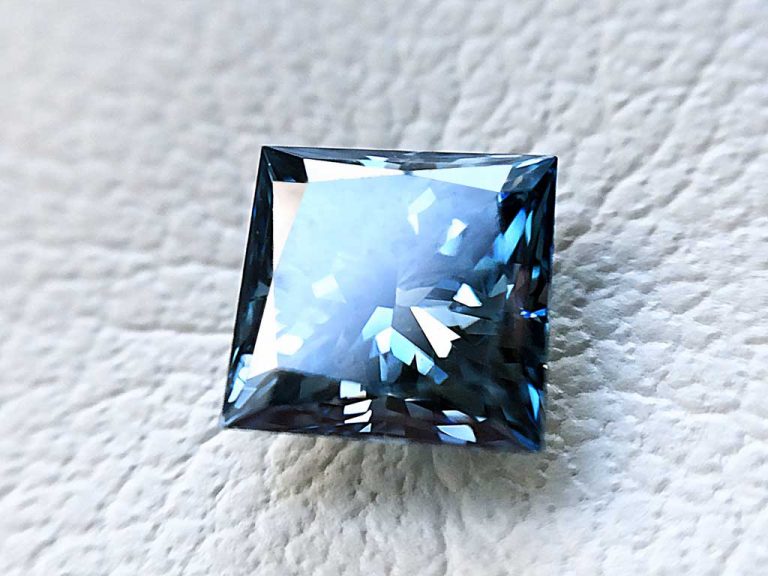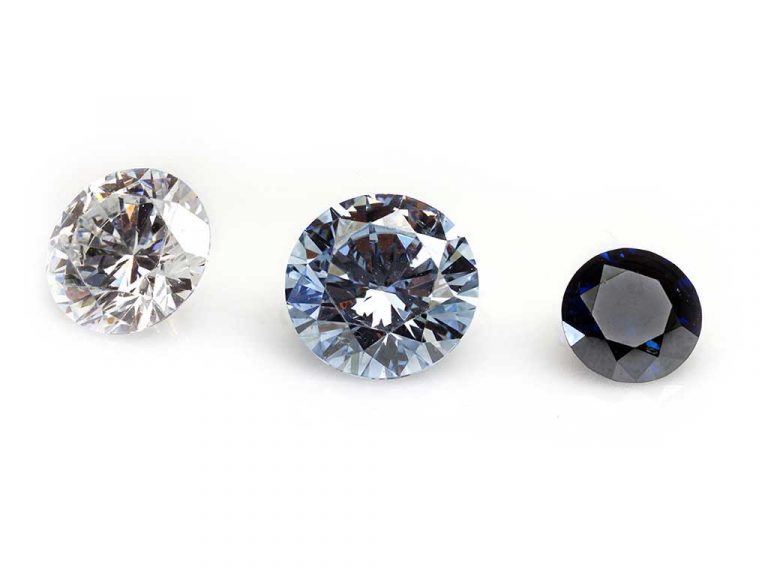 Cremation diamond colours
Our bodies contain the element boron which causes cremation diamonds to have different shades of blue to colourless depending on the amount of boron in the cremains. Colourless and blue diamonds from ashes are the most difficult and time consuming cremation diamonds to grow. Algordanza specializes in growing these very precious and rare gems.
The introduction of industrial carbon or other impurities can make a diamond yellow, or amber, exposing the diamond to radiation turns them green or red as well as breaks down the diamond latice making them weaker. Algordanza does not influence the colour of their diamonds.
Algordanza offers six cuts for cremation diamonds; Radiant, Princess, Heart, Asscher, Brilliant and Emerald. Although Algordanza does not cut diamonds, we work closely with expert diamond cutters in London and around the world.
Most cremation diamonds that are cut are usually set into rings or pendants, need help deciding which cut best suits your loved one? Just think about what your loved one's personality most resembles, perhaps the cremation diamond should be left uncut (rough).
Certain cuts such as the heart cut need a greater surface area, and cannot be made if the diamond is too small. Contact us for more information.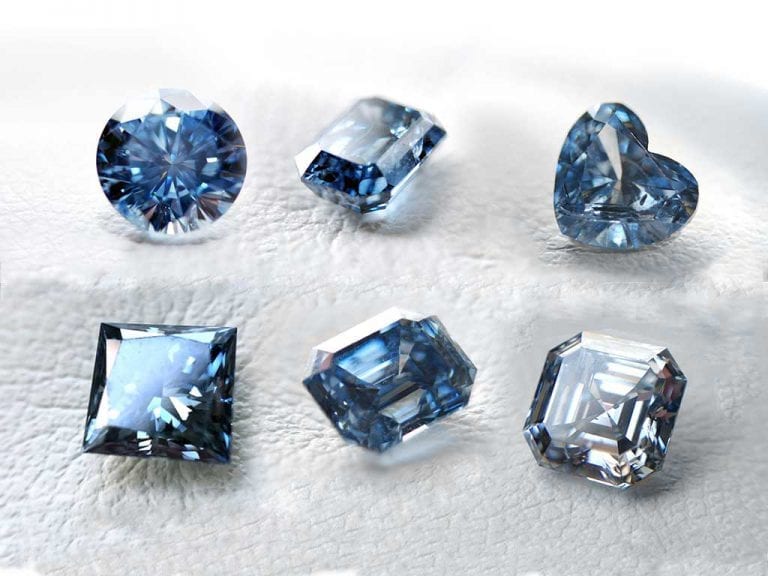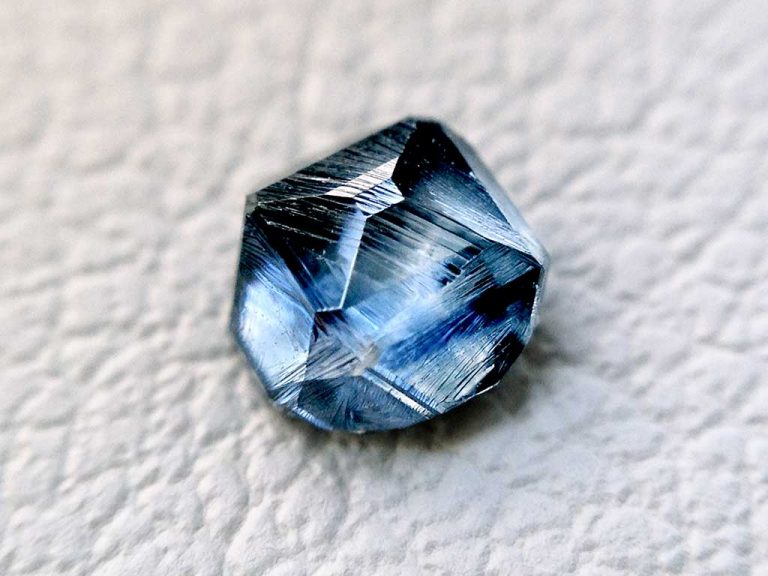 Rough or uncut cremation diamonds
Uncut cremation diamonds are preferred by many clients because they reflect their loved one's "Rough Edges" both having been naturally formed. No two rough diamonds are the same and are therefore unique. Rough diamonds are slightly polished in order to give them a proper shape.
It is possible to set rough diamonds into beautiful jewellery. The most popular choice is to set a rough diamond into a pendant or necklace,  showing off the unique texture of the rough diamond.
Typical cremation diamond sizes range from 0.3 carats to 1.0 carat, however depending on the amount of cremated remains available and the content of carbon in the cremation ashes, up to a 2.0 carat diamond can be grown. Consider the following…
Who is the Cremation Diamond for?
Individual Diamonds: Would you like one or two larger memorial diamonds created as a remembrance of your loved one? Such diamonds could be displayed at home for all family members to see or made into jewellery such as rings or pendants to wear and take with you anywhere.
Family Diamonds: Would you like a limited number (up to 4) smaller diamonds made for each family member to remember their lost loved one in their own way?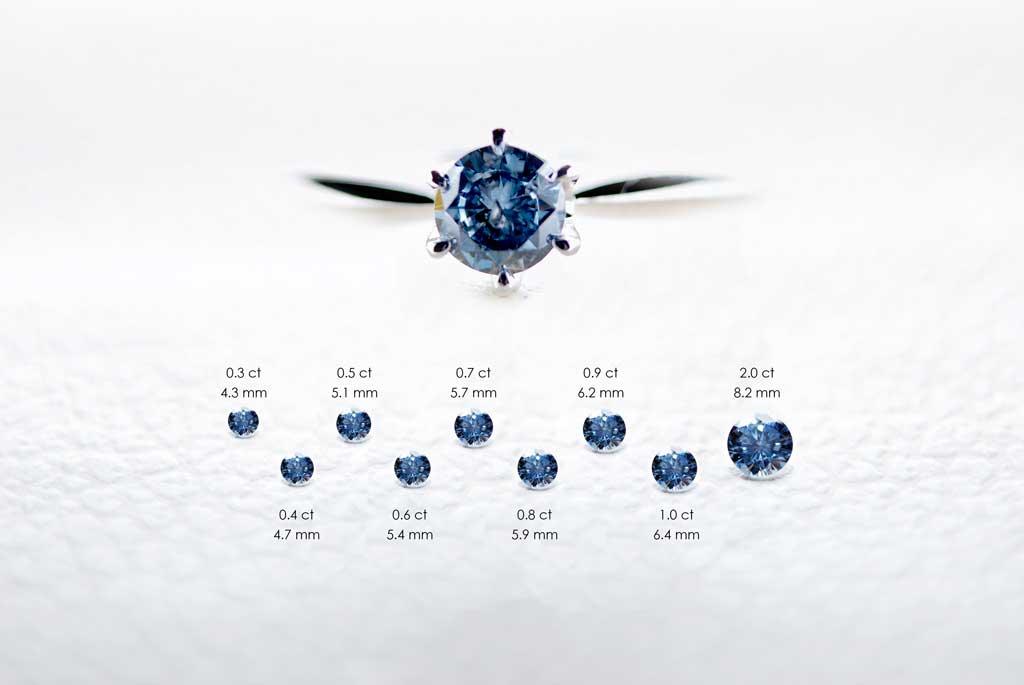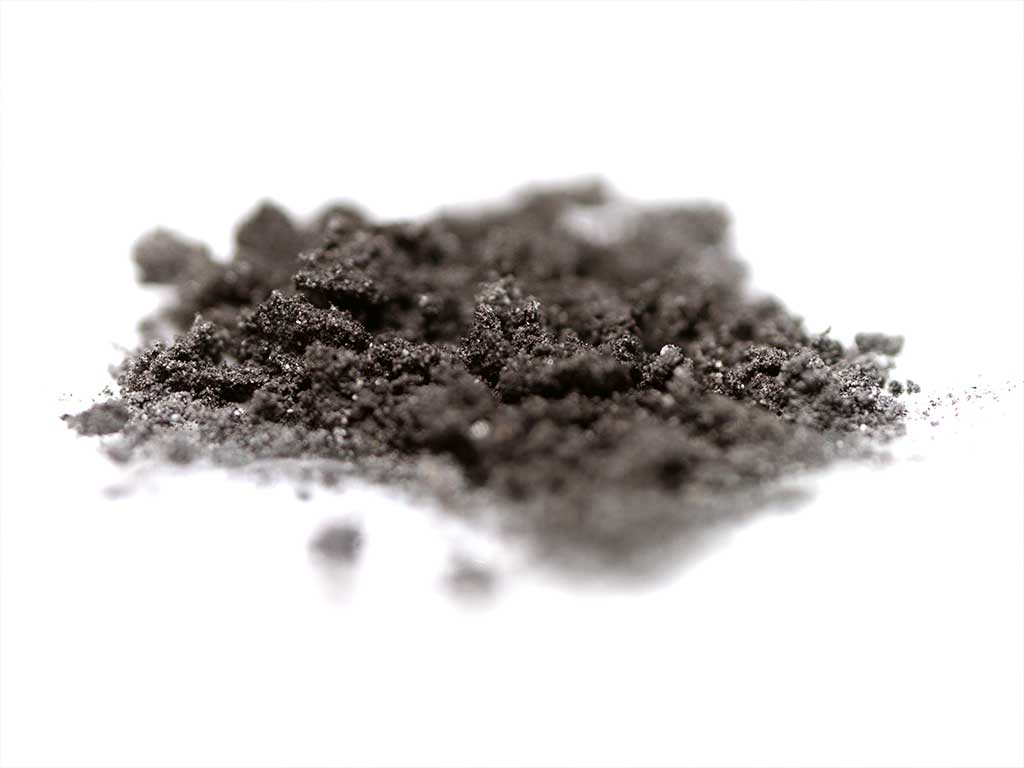 The process of turning ashes into diamonds
Are you interested in how Algordanza turns ashes and hair into diamonds as well as learn what a real cremation diamond consists of?
First we need 500g of ashes or 5g of hair or a combination.
Then we Isolate the carbon using the highest quality processing available
Purification of carbon up to 99.99% purity
The carbon is placed in a unique growing cell
The growing cell is placed in our German engineered HPHT presses
The diamond is removed after a time dependant on the size desired
The rough diamond is either cut or left uncut if desired, and simply polished
The diamond is thouroughly inspected by a highly qualified gemologist
A certificate of authenticity is made and the diamonds girdle is laser inscribed 
Your diamond is complete and in a short time will be personally delivered to you
Ordering a cremation diamond - Step 1
Your first step is to contact Kevin Foy in the UK for current cremation diamond pricing, by filling out our contact form, or calling us free of charge at: 0800 0646683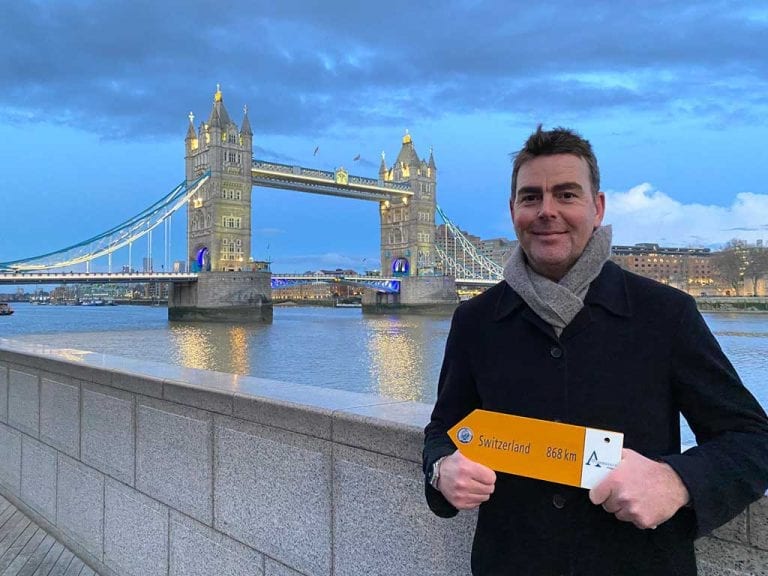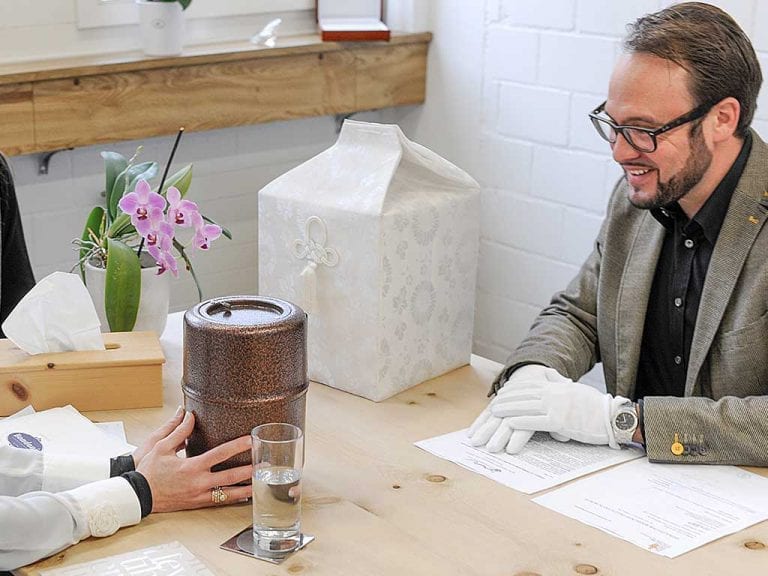 Step 2 - Securing of cremation ashes
Most Ashes to Diamonds companies want you to send your loved one's ashes through the mail, which are often lost, stolen or sent to the wrong address.
We understand that handling your loved one's ashes can be overwhelmingly emotional, therefore we offer three options.
Option 1: Algordanza UK will travel anywhere within the UK to personally secure the ashes, whether from you or your funeral director.
Option 2: Alternatively, if you would prefer to personally hand over the ashes yourself in London or our lab in Switzerland, please contact us to arrange a visit.
Option 3: We can provide secured shipping of cremation ashes to our Swiss lab free of charge.
Step 3 - Sign our contract with peace of mind
Once you have decided on the source, cut and size of your cremation diamond, we will arrange an appointment to visit you personally in order to sign the necessary documents in order to create your cremation diamond.
A unique reference number will be provided to you for your future tracking purposes, and 50% of the payment is required at this stage. This unique Algordanza reference number will be etched into the girdle of your cremation diamond with a laser confirming authenticity.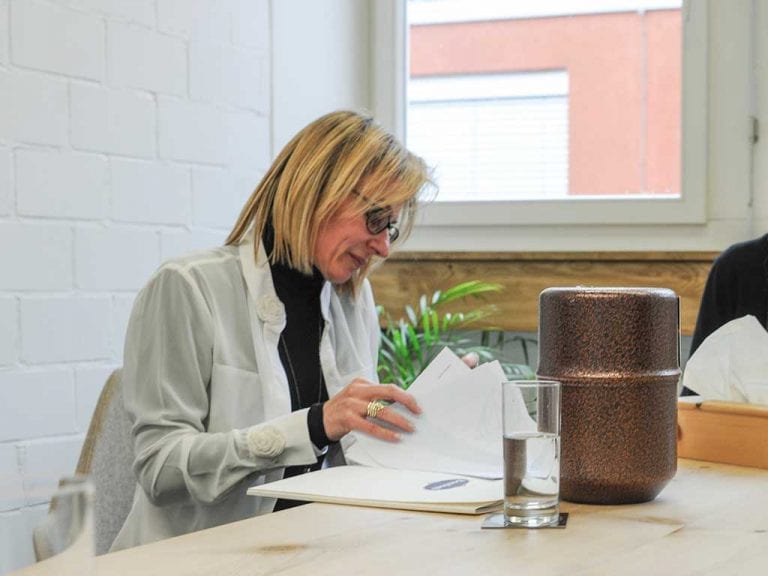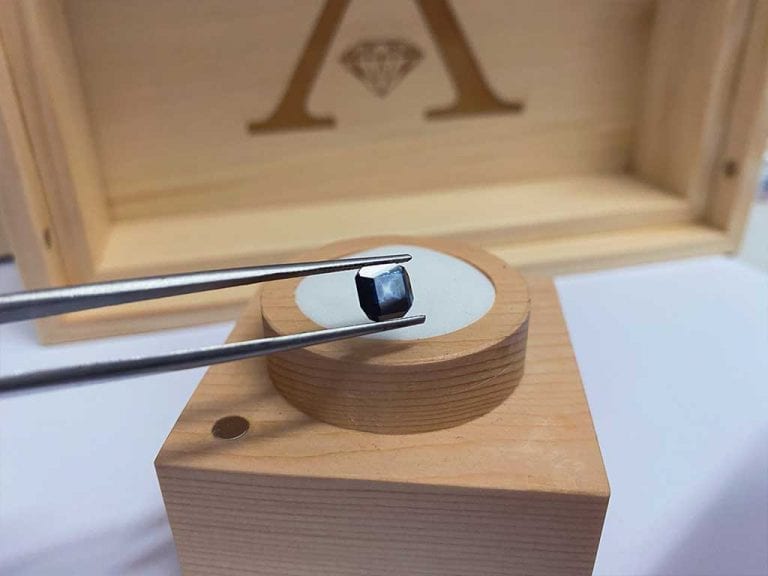 Your cremation diamond is finished
Once our Swiss lab has received the ashes, it will take approximately (depending on the size) 4 to 8 months for the growth of a cremation diamond.
Once the process of making your cremation diamond has started you will be sent updates for each stage of the process. 
Once finished, we will arrange to deliver your diamond to you personally. The remaining 50% payment is due upon completion.
Frequently Asked Questions and Answers
It is not the volume of ash that is decisive for the growth of a cremation diamond, but its carbon content. A cremation diamond is grown purely from the carbon extracted from human ashes of which a minimum of 500g is needed to grow, this is because ashes contain approximately 20% carbon.
If a company that turns ashes to diamonds needs less than 500g of ashes, they are more than likely adding industrial carbon (impurities) to the process in order to create the size of diamond needed, Algordanza guarantees that your cremation diamond is made of 100% of your loved ones ashes.
We document our rigorous quality control with an ALGORDANZA certificate. We guarantee authenticity, weight, cut, colour and the origin of the diamond having been created from the delivered cremation ashes or hair.
Each diamond order is marked with a unique reference number. (This reference number will be provided to you when you sign the order form) Consequently, we are able to retrace every step of the process; starting from the order to the finalized diamond. Throughout the process, we provide information on the status of the transformation as each stage completes.